The Japan Logistic Systems Group is actively engaged in a variety of activities to achieve environmentally friendly logistics, including acquisition of ISO14001 and Green Management certification and the promotion of modal shift in transport.

Our company also implements the Declaration of Conduct to Combat Global Warming issued by the Tokyo Chamber of Commerce and Industry.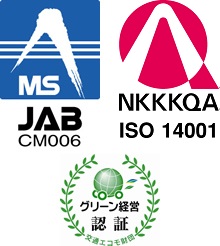 To actively advance its environmental conservation initiatives, Japan Logistic Systems has acquired certification for the ISO14001 international standard at its main office, and Green Management certification at 16 sales offices (as of January 31, 2015). Hanshin Logistic Systems and Logitem Transport have also acquired Green Management certification.
1 Green Management: A program under which the Foundation for Promoting Personal Mobility and Ecological Transportation certifies and registers businesses that engage in initiatives meeting a level prescribed by the Green Management Promotion Manual.

As one effective method of reducing CO2 emissions from forms of transport such as trucks, Japan Logistic Systems actively pursues "modal shift"2 to forms of transport such as railways. Japan Logistic Systems has won acclaim for this initiative and has been recognized four times as an Exemplary Business Engaged in Modal Shift.3
2 Modal shift: The switch from truck transport to rail or ship transport as a means of transporting cargo. Modal shift is seen as having a number of beneficial effects including alleviation of traffic congestion and shortage of labor, in addition to its effects as an environmental measure.
3 Exemplary Business Engaged in Modal Shift: A program by the Japan Federation of Freight Industries to recognize and publicize voluntary initiatives to promote modal shift by logistics businesses and to raise awareness of these initiatives.


Japan Logistic Systems adopted digital tachographs in 2004 to promote environmentally conscious driving. The tachographs record daily driving routes, the location of unsafe driving, vehicle handling, and the amount of fuel used unnecessarily. The recordings form the basis of appropriate instruction given to drivers, and are expected to lead to energy conservation and reduced gas emissions. Our adoption rate for the devices within Japan is nearly 100%. Looking ahead, we will continue contributing to global environmental conservation as further adopt the devices.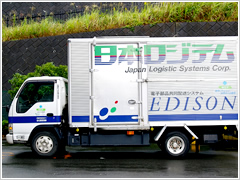 Japan Logistic Systems has adopted 19 environmentally friendly CNG (compressed natural gas) vehicles (as of January 2015). We will continue active adoption of environmentally considerate vehicles, including newly developed types.

Japan Logistic Systems is engaged in reducing environmental impacts in its logistics centers by converting lighting equipment and signs to LED.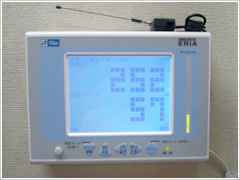 Japan Logistic Systems is adopting Power Demand Monitoring Systems to reduce electrical power usage in logistics centers. We are working to effectively reduce our electrical power usage through the visualization of usage.