As of March 31, 2018
| | |
| --- | --- |
| Total number of authorized shares | 3,900,000 |
| Total number of issued shares | 1,383,310 |
| Number of shareholders | 1,764 |

Shareholder name
Number of shares held
Shareholding ratio
Nisshin Flour Milling Inc.
281,200
20.549%
Eiichiro Nakanishi
243,200
17.772%
JF Plannning Co., Ltd.
163,984
11.983%
Nisshin Seifun Group Inc.
69,200
5.057%
Japan Logistic Systems Employee Shareholding
Association
44,828
3.276%
Chiyo Kuroiwa
25,700
1.878%
Mizuho Bank, Ltd.
14,000
1.023%
The Shoko Chukin Bank,Ltd.
11,000
0.804%
The Bank of Tokyo-Mitsubishi UFJ, Ltd.
10,000
0.731%
Tokio Marine & Nichido Fire Insurance Co., Ltd.
10,000
0.731%
Notes
1. Japan Logistic Systems holds 147,617 shares of its own stock, but as these are non-voting shares, the Company is not listed among the above major shareholders.
2. Shares held by the Company are excluded from calculation of shareholding ratio.

| | |
| --- | --- |
| Individuals, etc. | 55.923% |
| Other corporations | 39.791% |
| Financial institutions | 4.219% |
| Foreign corporations, etc. | 0.028% |
| Securities firms | 0.036% |
| Total | 100.00% |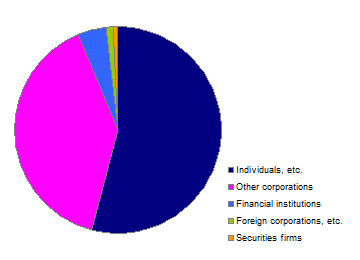 | | |
| --- | --- |
| 1000 units or more | 49.815% |
| 500-999 units | 5.008% |
| 100-499 units | 9.430% |
| 50-99 units | 4.935% |
| 10-49 units | 13.722% |
| 5-9 units | 3.589% |
| 1-4 units | 13.497% |
| Total | 100.000% |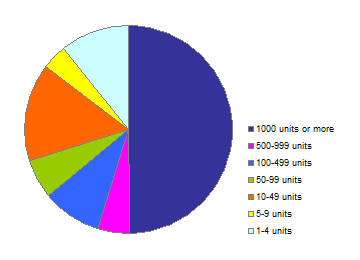 Fiscal year
April 1 to March 31 of the following year
Record date for dividend of surplus
Effective date of year-end dividend March 31
Effective date of interim dividend
September 30
Ordinary General Meeting of Shareholders
June every year
Number of shares in unit
100
Method of public notice
Electronic public notice (http://www.logitem.co.jp)
However, when electronic public notice cannot be made for reasons outside of the Company's control, public notices will be posted in the Nihon Keizai Shimbun.
Stock exchange listings
Tokyo Stock Exchange JASDAQ (Standard)
Securities Identification Code
9060
Shareholder register manager
2-1, Yaesu 1-chome, Chuo-ku, Tokyo, Japan
Mizuho Trust & Banking Co., Ltd.

Persons with accounts at
securities firms
Persons with special accounts
Postal mailing address
Please address mail to your securities firm.
2-8-4, Izumi, Suginami–ku, Tokyo, Japan 168-8507
Mizuho Trust & Banking Co., Ltd.
Stock Transfer Agency Department
Telephone inquiries
0120-288-324 (toll free)
Web site
http://www.mizuho-tb.co.jp/english/index.html
Brokerages

Mizuho Trust & Banking Co., Ltd.

Main office and nationwide branch offices

Mizuho Securities Co., Ltd.

Main office and nationwide branch offices

Notes
Regarding payment of accrued dividends and issuance of payment statements, make contact via post or telephone, or through a brokerage shop, as noted under "Persons with special accounts" at right.
Shares cannot be bought and sold in numbers smaller than the specified units. Persons who did not conduct name transfer prior to the paperless stock transfer system and who hold shares in another person's name are requested to make contact immediately.
About special accounts
For shareholders who did not use "Hofuri" (Japan Securities Depository Center, Incorporated) prior to the paperless stock transfer system, "special accounts" were opened with the shareholder register manager, i.e., Mizuho Trust & Banking Co., Ltd. For inquiries, change of address, or other notifications concerning special acounts, please make contact via the telephone number above.
Overview of additional purchase of shares constituting less than one unit
Shareholders holding shares constituting less than one unit can make use of additional purchasing, as well as regular share purchasing. The former allows those with share holdings of less than a full unit (1,000 shares) to increase their holdings by the amount that constitutes a full unit. For details or preocedures, contact the shareholder register manager, i.e., Mizuho Trust & Banking Co., Ltd. Persons with an account at a securities firm should contact the securities firm.


Japan Logistic Systems considers the stable allotment of dividends to shareholders as one of the highest priorities in management, and as a matter of policy actively undertakes profit sharing that takes into account the progress of performance and dividend payout ratio. The company will strive to improve its business performance and strengthen its financial constitution through the allotment of retained earnings to investment, etc. in future business development.

Units: yen
Term ending March 2013
Term ending March 2014
Term ending March 2015
Term ending March 2016
Term ending March 2017
Term ending March 2018
Annual dividend per share
8
8
8
8
8
44
Interim dividend
4
4
4
4
4
4
Year-end dividend
4
4
4
4
4
40
Dividend payout ratio (consolidated)
53.0%
137.4%
--
241.2%
23.6
56.8