With the aim of providing high-quality logistics services that satisfy customers, the Japan Logistic Systems Group is actively pursuing a variety of actions that include acquisition of ISO9001 certification and promotion of our ACT256 small-team activities.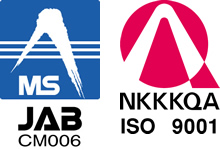 In order to firmly establish its quality management system, Japan Logistic Systems has acquired certification in the ISO9001 international standard for its main office, 23 sales offices, and 1 field offices (as of January 31, 2015). Hanshin Logistic Systems, Logitem Transport, and Fukuoka Logistic Systems have also acquired ISO9001 certification.

The Japan Logistic Systems Group is actively engaged in improvement and rationalization of logistics management and logistics in the field. As a component of this, we participate regularly in the All-Japan Logistics Improvement Case Study Convention. Our entry in the 2007 convention, "Achieving Low Cost and High Quality with Hand-Made Inspection Hand Trucks," received the Logistics Rationalization Award as a particularly excellent case study.
1 All-Japan Logistics Improvement Case Study Convention: Held by the Japan Institute of Logistics Systems and the Japan Logistics Research Society, this convention allows practitioners of logistics to share efficiency hints and expertise through presentations on improvement case studies concerning logistics in the field and in the domain of management and operations.


Voluntary small-team activities thrive within the Japan Logistic Systems Group. Under the name ACT256, these activities tackle quality and work efficiency improvements through the creation of workplace teams of several persons.
2 ACT256: This name combines an acronym for "Action, Challenge, and Team" with the number of teams at the time the program was launched.


Centered on our Quality Management Division and its storehouse of field experience, the Japan Logistic Systems Group offers guidance on improvement proposals to on-site staff, based on the KPI data accumulated in logistics centers. We also promote visualization in logistics centers and aim to create workplaces in which on-site staff can always assess the content of their work.
3 KPI (Key Performance Indicator) refers to a quantitative index for measuring the degree of achievement of targets.