From storage to distribution processing, the Japan Logistic Systems Group views activities matched to the form and characteristics of products as a single line system. In addition to warehousing tasks such as loading/unloading and discharge of diverse stored goods, we deal with distribution processing for a variety of products. On behalf of customers, we also take on tasks requiring advanced expertise such as mail-order logistics, outsourced office work, and logistics consulting, contributing to work efficiency and reduced costs.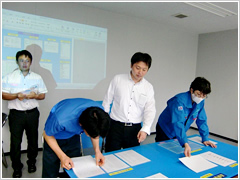 To provide high-quality, low-cost services, the Japan Logistic Systems Group participates in the All-Japan Logistics Improvement Case Study Convention and actively undertakes improvement programs such as our ACT256 small-team activities, which form considerable differentiators and strengths for our company. Each and every person in our logistics center voluntarily undertakes work with awareness of quality and productivity.


Within the logistics field, distribution processing needs are growing and diversifying. The performance of the most efficient processing at the right time and place within the distribution chain is the key point in logistics, which the Japan Logistic Systems Group achieves through ideally-sited logistics centers and distribution processing systems. Through this, we have succeeded in lowering the cost of logistics.
Major distribution processing experience
■Loss-less cutting of carpets, etc. matched to delivery destination criteria
■Price labeling, tagging, labeling, and other storage and warehouse unloading tasks for apparel retail products
■Foodstuffs-related packaging and prepackaging tasks such as price, quantity, and unit-price labeling
■Assembly of gift-exchange packs combining several products (assortment packaging)
■Imported product quality checking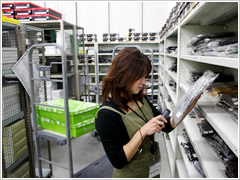 With the popularization of the Internet, mail-order logistics is expanding in market scale. Japan Logistic Systems' mail-order logistics offers optimal services matched to the characteristics and logistics of products for customers expanding into Internet sales.

Japan Logistic Systems performs the outsourced office work vital to logistics center operation. We ensure consistency between diversified, complex flows of goods and flows of information to achieve optimization of overall logistics. We also undertake the outsourcing of call center order processing.

Logistics consultants familiar with customers' industries perform current state analysis and diagnosis of logistics to support optimal systems and operation.