The Japan Logistic Systems Group offers optimal transport systems, including vehicles, matched to the characteristics and volume of products. Our consolidated delivery for products such as electronics and foodstuffs earns high marks from customers as a highly complete system integrating over half a century of expertise. Moreover, we position our drivers as important human resources in transport systems, and have established thorough education systems. We aim to educate human resources who not only have deep knowledge of products and understanding of sales, but also value service and human communication.


EDISON (Electronics Delivery Include Slip Operation Network)
:Consolidated delivery of electronics products
Japan Logistic Systems offers consolidated delivery that reduces logistics costs by addressing the electronics industry's particular needs for large-variety small lots, advanced quality management, and just-in-time delivery. Our area of service is covered by Japan Logistic Systems in the Kanto region and Hanshin Logistic Systems in the Kansai region.
[EDISON optional services]

■ Non-Rush Delivery

Slower delivery time (within two days from pick-up) achieves lower costs.

■ STAMP Mail

Unlike regular mail delivery, this service collects receipt stamps. It can be used together with Non-Rush Delivery.
Chilled Grocery Consolidated Delivery System
We offer consolidated delivery for foodstuffs that require temperature management. Japan Logistic Systems' Chilled Grocery Consolidated Delivery System covers all of Eastern Japan from our Tsurugashima Sales Office in Tsurugashima City, Saitama Prefecture.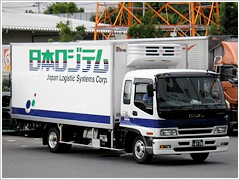 HC (Home Center) Consolidated Delivery for living environment materials
Japan Logistic Systems offers consolidated delivery of living environment materials such as residential construction materials, gardening materials, and flooring material. We deliver to home centers, construction material wholesalers, and trading companies throughout most of the Kanto region from our Kashiwa Sales Office in Kashiwa City, Chiba Prefecture.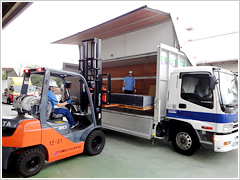 Logitem Label System
To further expand the merits of consolidated delivery, Japan Logistic Systems converts invoice data to EDI, a mechanism for exchanging transaction-related electronic data among companies under a common format. Adoption of the Logitem Label System enables "invoice-less" shipments using only a unified packing slip, increasing work efficiency.


Japan Logistic Systems has contributed to customers' environmental response through the early preparation of systems for the long-advocated practice of modal shift.1 In particular, we were early adopters of freight liners2 that make use of railways. Japan Logistic Systems has won acclaim for this initiative and has been recognized four times as an Exemplary Business Engaged in Modal Shift.3
1 Modal shift: The switch from truck transport to rail or ship transport as a means of transporting cargo. Modal shift is seen as having a number of beneficial effects including alleviation of traffic congestion and shortage of labor, in addition to its effectiveness as an environmental measure.
2 Freight liner: A method of transport that organically combines the high volume and speed of rail transport with the mobility of truck transport.
3 Exemplary Business Engaged in Modal Shift: A program by the Japan Federation of Freight Industries to recognize and publicize voluntary initiatives to promote modal shift by logistics businesses and to raise awareness of these initiatives.

Japan Logistic Systems is constructing a diverse network to handle small-lot deliveries nationwide. Based on customers' delivery terms, we perform customer data management, destination label issuance and enclosure, and other tasks to provide safe and smooth delivery of goods.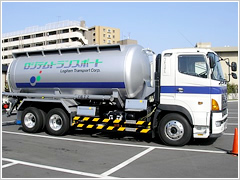 Bulk transport refers to the transport of goods in loose form. As packaging and crates are not required, this mode of transport reduces the hassle of packaging and is friendly to the environment. Japan Logistic Systems, Logitem Transport, Hanshin Logistic Systems, and Sumiya Transport offer transport services for granular material such as flour.

Logitem Keikabin offers services using light vehicles for situations including urgent transport cases and single-person relocation. Hanshin Logi-Support provides this service in the Kansai region.

This service reduces the cost of large-lot cargo. For shipments without specified delivery time, cost can be reduced through previous-day ordering.