To provide wide-ranging logistics services to customers, the Japan Logistic Systems Group develops various related businesses.

Our relocation centers meet customers' needs with comprehensive office relocation services. Our personal relocation service wins high marks from customers for its safe and reliable service level. Logitem International leverages its Asia-region network, spanning Taiwan, Hong Kong, Thailand, Vietnam, China, and Laos, to offer door-to-door transport for the belongings of customers assigned overseas.


Logitem Engineering provides offices and shops with one-stop services for furnishings, from storage to transport and assembly.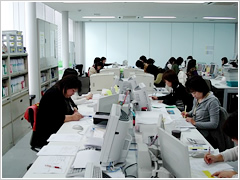 Logitem Agency provides human resource services for diverse industries. It also stations expert staff within customers' plants and logistics facilities to perform logistics-related operations.


Logistics Agency offers comfortable office layouts with new and used office furniture.


Logitem International, with offices in the key ports of Tokyo, Yokohama, Osaka, and Kobe, supports customers' trading businesses through registered customs specialists with expert knowledge.