Japan Logistic Systems' logistics centers, developed primarily in the greater Tokyo area, boast excellent locations close to major highways, centered on National Route 16. Hanshin Logistic Systems and Fukuoka Logistic Systems have established logistics centers in the Kansai and Kyushu regions, respectively, to provide powerful support for customers' logistics strategies.
Japan Logistic Systems thoroughly practices effective arrangement of products and utilization of space through multi-tier warehousing, and deploys complete management systems for product date management, product lot management, dust protection, and temperature and humidity management matched to products' characteristics. We are also advancing efficiency through the adoption of unmanned carrier systems such as vertical conveyers, hanger carriers for apparel, and multi-tier automatic warehouses for beverages.
Adoption of diesel generators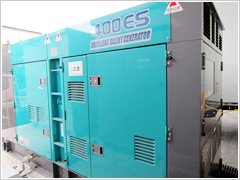 At our Tsurugashima Sales Office, we have adopted emergency diesel generators in preparation for power outages, earthquakes, and other disasters.


Drawing on our proprietary expertise, we provide optimal logistics facilities of all sizes, selected through careful surveys of properties. In addition to maintenance and management of logistics facilities, we offer multi-faceted services related to real estate, including rent calculation, operation simulation, and contract procedures. We also welcome consultation from parties wishing to lease or otherwise make effective use of owned properties.